Life and Landscape Photography - What Happened in September?
It's that time again, time for a look back over the previous month and look at what happened
What's been going on?
September is when things start to quieten down here. The Spanish holiday time is August and so we see a drop in tourists in the area once August is over. It starts to get even quieter at the end of September as the season really starts to close off and then we get a peak of activity in October with the big Moors and Christians Fiesta.
Events, Exploration and Non Landscape Photography.
As with August, not a massive amount to report (in fact nothing). It's still a very hot month and still quite busy so not the time for heading out and exploring new places (for us). Also no major events that we wanted to go to.
Vlogging
I've continued with the schedule of two videos every week and I'm delighted that my views and number of subscribers is increasing. I'm sure there's more that I could do to promote my videos but I'm wary of going down that social media rabbit hole where I end up spending all of my time on the computer. So I'm happy with a slow and steady growth for now.
I did have some issues with my audio equipment in September and that has been frustrating but I've still managed to get the videos out.
I actually did one video that was a bit more of a 'tutorial' style and that was all about making the move from automatic modes to manual modes, for both exposure and focus.
You can watch that video below
Landscape Photography
So… my first outing for September almost didn't happen. Still suffering a bit with the summertime blues I was struggling to get the motivation to go out. It was too hot, too humid, there were too many people about. The weather conditions didn't look promising.
Anyway, I pushed myself and headed out, quite late in the afternoon, to the reservoir at Amadorio, and I was delighted that I did because I ended up with some fantastic conditions and a couple of images that I was really pleased with:
Here are the images:
and here's the video of the shoot
My next outing was one of those completely unplanned ones. I woke up early, too late to go far, but early enough to shoot locally. As I wasn't sure what conditions were going to be like I headed out to a location a short walk from home called El Banyets. The idea being to get some images around sunrise on the rocky area of coastline that surrounds the remains of the Roman fish farms.
I managed a couple of nice images before, and at, sunrise, and then moved over to the far end of the area to try to capture waves breaking on the rocks.
I ended up with a really nice image, here it is:
and here's the video of the morning
I actually did another video all about how I processed that image and the technique I used to maximise the impact of the waves.
Here's that video:
>
My next trip out was a hike up into the hills near to Orxeta which gives some wonderful views over the surrounding area. My idea was to try to get a good image of the end of El Castallets ridge with, hopefully, some nice light and clouds.
On the hike up I kept noticing the way the clouds were wrapping around Puig Campana mountain. When I reached my location and set up for the composition I had planned I kept a close eye on what was happening and, after I had a shot of the ridge that I quite liked, I changed my focus to what was going on around the mountain.
It proved to be a spectacular evening with conditions that really don't happen very often.
Here's one of the images:
and here's the video
Conditions were very different for my next trip out. very little cloud and I decided to go up to Cabezon del Oro mountain to see if I could work on some more details shots.
I got a few images that I liked but there was one that I just felt wasn't quite right. After a bit of time to reflect on it I decided to try making it a black and white and I was instantly much happier with it, even though it's shown in colour in the video.
Here's the final image
and here's the video
Sometimes when planning a photoshoot it can be just one detail that catches you out. I headed out on an afternoon when, in the area that I live, the sea was quite rough with some big waves breaking.
I headed a little bit farther north to the coastal trails near Villajoyosa as I thought the big waves would look good on the cliffs there. What I hadn't figured out was that the cliffs were acting as a wind break for the wind in that direction and, instead of big dramatic waves, we had more like ripples.
I decided to carry on and just change my ideas of what I should shoot.
I found one interesting composition a bit before sunset and waited around until I could get a decently long exposure on it.
Heres the image:
and then I went in search of something else and ended up hanging around into the blue hour taking telephoto shots from the cliffs across the marina at Vllajoyosa to the hills and mountains in the background.
Here's the blue hour image
and here's the video
Another shoot close to home was to a vantage point overlooking La Illeta, a small peninsular (it was an island but has been joined to the main coast with a concrete causeway) that contains an archeological site that has produced artefacts going back more than 5000 years. At the far end of the peninsular are the remains of the roman fish farm that I was at earlier in the month (El Banyets).
This video was actually about a mistake that many people make when they go out for a sunrise shoot... turning up for sunrise! The main message here was that the best of the light can often be sometime well before sunrise, so you need to get there early. Of course the reverse is true for sunsets, don't pack up and leave as soon as the sun goes down, the very best of the light can be 20-30 minutes after sunset.
Anyway, the conditions proved to be beautiful and I got an image that I liked: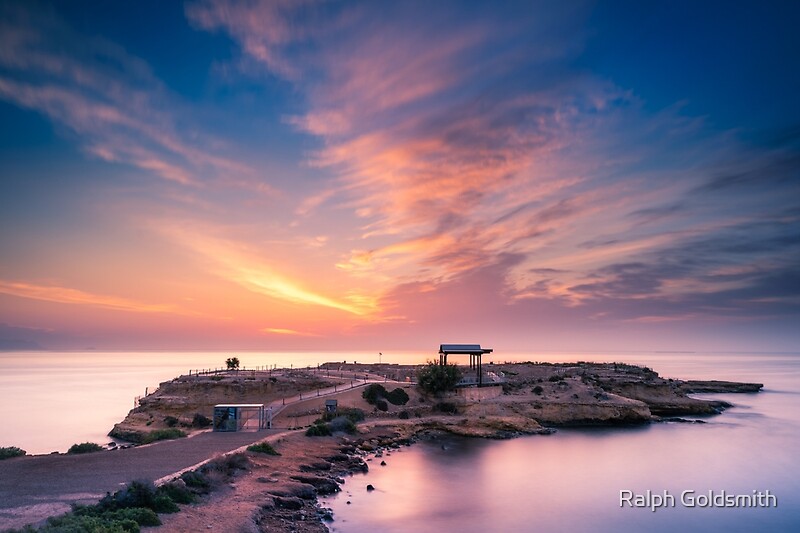 This was also a bit frustrating because I had some major issues with my audio recording gear and so the video had to be edited a bit differently to the way I wanted.
Here's the video:
If that shoot was close to home then the following image was even closer. I got up in the morning, opened the blinds, saw the scene developing, rushed to get the 70-200 lens on the camera, no time for a tripod so I shot handheld, using the balcony wall to help brace myself and just managed to get the shot while the boat was in the right place. Sometimes it's just about a bit of luck (there was no video for this one for obvious reasons)

As the month started to draw to a close I was pulled back to the coast again, This time to a location a little bit south of where I live but just to the north of Alicante.
Cap de l'Horta is best known for the lighthouse that sits on the top of the hill there. I hadn't really intended to photograph it that morning but, when I first arrived, I could resist a long exposure with the lighthouse reflected in a still pool. There was almost no colour in the scene so I ended up converting it to black and white:
Then it was on to shoot the other features here, the rocky channels that stretch out to sea.
I shot a few images with various compositions right up until the sun came up. When I got home and viewed the final image I realised that there was a tiny solitary figure out on the edge of the rocks watching the sunrise. I had been so intent on getting the composition the way I wanted it I hadn't even noticed them.
Quite often I find people in the shot a distraction but, in this case, I was really happy they were there as, I think, they add that something extra that the image needed.
Here's the image:
and here's the full video
My final outing for September (although the video was released in October) was a really short trip down to the local beach with an attempt to get some shots down by one of the stone breakwaters.
This is a location I have shot before and the challenge was to try something different.
I got the obvious wide angle shot out of the way early, with a long exposure to blur the waves, and then swapped the wide angle lens for the 70-200 and tried to get something different.
There were a couple of people fishing out on the end of the breakwater and, initially, I thought they were going to be a problem. They were moving around and the longer exposures I was using meant they were blurry.
However, as the scene got brighter, and my exposure time became shorter, I was able to get them nice and sharp in the image and they proved to be great feature for the second two images.
I was really happy with a longer focal length shot focusing on them and the breaking waves
and then, after the sun broke though a bit of low cloud on the horizon I managed another image, with a bit shorter focal length, that I was also really happy with
Here's the video
OK, so that's it for this month
October is, hopefully, going to see some more new locations explored and, depending on how things go, I might do some video and images around the Moors and Christians celebration.
Until then
Have a great month and don't forget, I put out two videos every week. head over to my Youtube channel now and subscribe and you won't miss them