Weather Forecasts, Blue Skies and Lessons Learned
This week has been one for learning, or perhaps more accurately, re-learning, some lessons about photography. Most of these lessons have to do with the weather.
As we have moved into March the weather has gotten a bit warmer. We've seen quite a lot of blue skies and, on a couple of walks out and about, it has been really very warm. Plenty warm enough to be in short sleeves and sometimes warm enough to wish I'd worn shorts.
But not every day has been like that and we have had some cloud, on one occasion quite heavy cloud.
For the most part the images I have captured this week have not been during the 'golden hours' around dawn and dusk. Instead they have been shot in mid to late afternoon which, in the winter, can still result in some nice lighting conditions. I have been looking for opportunities this week to do both a sunrise shoot and a sunset shoot. I haven't done either because the conditions have not been right to make the most of those times of day. The exception being one morning and one evening when, after consulting the weather forecast, I decided not to go out only to realise too late that I had missed a great opportunity. Oh well. There's always next week.
So the main lesson has to do with weather forecasts and not really trusting them.
Last Sunday I headed out for a late afternoon walk in the mountains with the aim of completing a sunset shoot. The weather forecast was for 50% cloud cover and this would mean that, with any luck, there would be some nice light and some interest in the sky.
It wasn't long after I arrived that I started to have my doubts. The cloud seemed to be getting really heavy over the top of the mountain peaks, even though there was still some nice light breaking through and painting the lower areas of the scene:
There was still the possibility that the clouds would clear over the next hour or so and, with that in mind, I continued on.
About an hour later I had to stop kidding myself. The sky was now almost completely full of cloud and the whole area was starting to get pretty dark. I decided to try to get the best out of the last bit of light breaking through and captured this shot before the clouds closed in completely: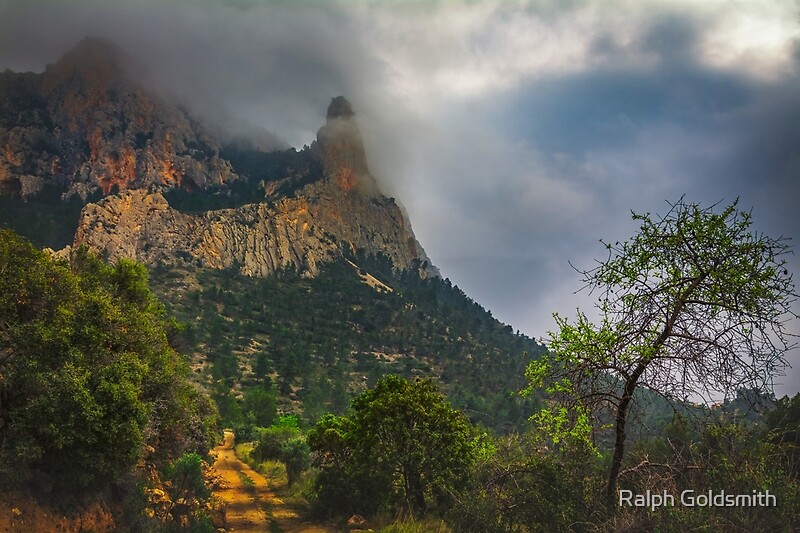 I decided that I would give it up for the day and started the hike back to the beginning of the trail where my car was parked. It looked like my sunset shot would have to wait for another day.
My next trip out was Monday afternoon. I was heading out to scout for a possible sunrise shoot location along the coastal path north of Villajoyosa. I was on a time limit as we had plans for the evening so I couldn't hang around for sunset but, I took the camera and lightweight tripod just in case there was something worth getting later in the afternoon.
One of the shots I captured is something that I might go back and do again at dawn, the composition will need to change a bit but, what I have in mind would make for a very different image on a morning with clear skies. Nevertheless, with some late afternoon light I quite like the way this one came out: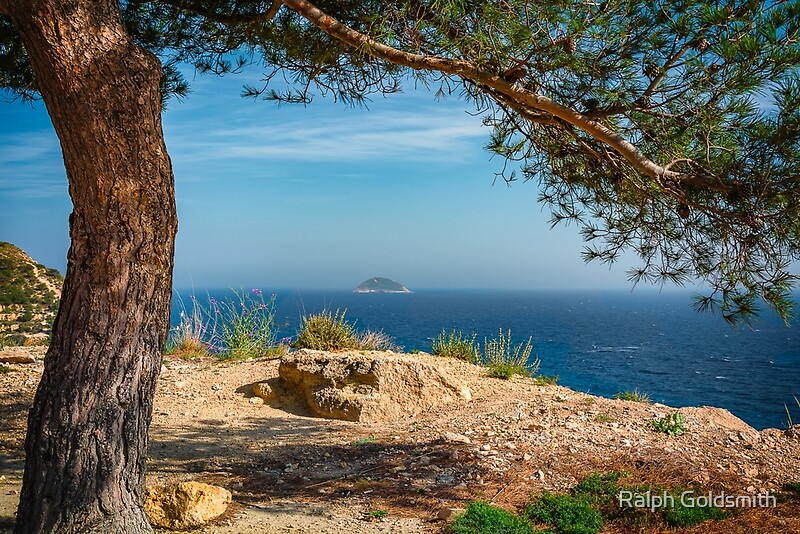 The same tree also provided the subject matter for the second shot of the afternoon. This time I was taken by the way the clouds seemed to line up along the wind shaped side of the tree. The sun was a bit higher than I would have liked but some careful composition produced an image I am pleased with:
​​​​​​With a couple of shots in the camera and some potential future locations scouted it was time to head for home. The weather forecast for the next few days was for clear skies and I was waiting to see if we were going to get something better to make an early rise worthwhile.
However we both went out for a bit of an exploration on Tuesday. We headed off to a location near to the village of Aigues but that proved to be much less appealing than I had hoped for. We then drove up to Relleu in the mountains but there were a number of closed roads and, after we parked up and started exploring on foot, some closed paths. I suspect there are repairs underway following the impact of the winter weather.
As the afternoon moved on we decided to loop back around to Amadorio for another look.
This time I parked up at the northern end and we set out for a small exploration.
A short pause looking up a part of the Amadorio valley revealed a nice scene now that there is some water there to add interest, and also to reflect the white clouds in the blue sky: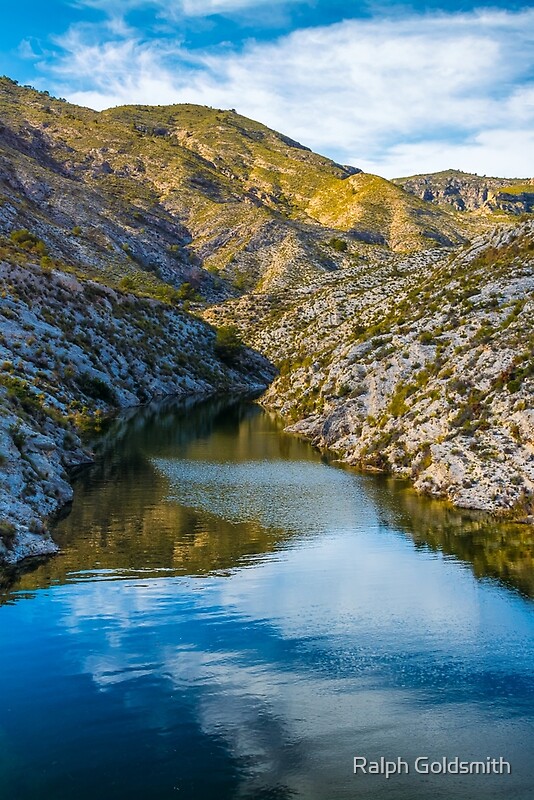 We then headed back down the path I had explored the previous week to check out the orange and lemon groves. As the sky was much clearer this time I couldn't resist another shot, this time with the sun in the frame:
On Thursday i decided to head out again for another afternoon scout. The plan was, as with most afternoons, to look for potential morning locations and, if at all possible, get some shots in the later afternoon light. I couldn't stay out until sunset as there were other plans in play for the evening.
I decided to head up to Malladeta in Villajoyosa. This is an area that I have been to, and photographed, before and it is the site of the derelict Villa Giacomina.
I quickly established a couple of potential morning locations although they would need the right conditions to make them worthwhile, and so I decided to see what kind of afternoon shots I could get while I was there.
Climbing up to the old tower on the hill overlooking the sea provided a nice vantage point for a view south along the coastline. Some low hazy cloud was blurring the distant features but the water colour was looking lovely so I decided to get a shot from here:
While I was in this area I thought there may be an opportunity to get a shot of the tower with the sun in the sky above it: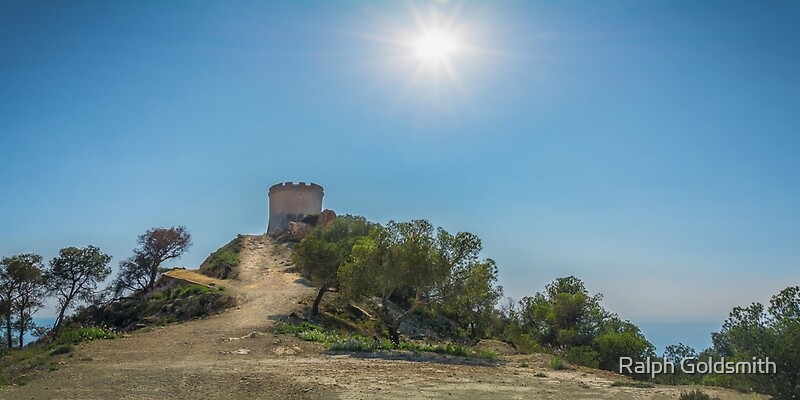 And then I decided to get a completely different viewpoint and climbed the hill at the northern end of the rocky beach to see what was on offer.
I was rewarded by a rocky ridge and an interestingly shaped tree to provide some foreground interest. The tower on its hill fills in the middle ground nicely and the coastline curves away into the distance: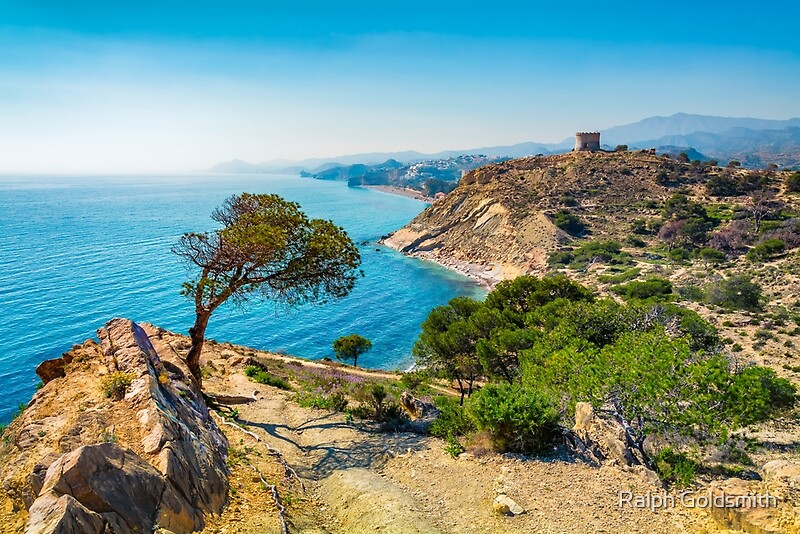 Once again I headed for home. I had an idea that I might return the next morning but it would all depend on the weather forecast. If there was going to be some cloud (but not completely overcast) then it might be worth it.
When I got home I checked the weather forecast and found that it was looking like total cloud cover. That wasn't going to work so I put off the trip for another time.
What I found when I woke up the next morning was that, at least in El Campello, the cloud cover was a bit less than forecast. It was too late to change my mind, the sun was already up and climbing in the sky, and even so it might not have been as good in Villajoyosa.
and that's it for this week.
The lesson about not relying too much on weather forecasts has sunk in (hopefully). If the destination isn't too far away then I may just go anyway and see if I get lucky.
Maybe I'll let you know how that works out in the next post.
Until then, have a great week