Warmer Weather, Amadorio and a first trip to the Aitana Mountains
The weather certainly seems to be picking up now. We've had some pretty warm conditions and, although there is still the occasional chill, either in the wind, or at either end of the day, the temperature during the daytime has certainly increased and my hiking trips this week have called for shorts to be worn rather than the long trousers that have been present for the last few months.
It's also been a week that seems to have flown by. As I'm writing this on Friday afternoon I can hardly believe that a week has gone by since our visitors were here. It also feels like I haven't got that much done. Oh well, there's always next week.
Having said that, I have managed to get out for a couple of trips, one of these was to my old faithful location at Amadorio reservoir and one was to a new place on the Aitana mountains.
So, let's start off with that new place.
The Aitana mountains are a fairly high range that sit inland and can actually be seen from El Campello looking north. It was these mountains that had the most snow over the winter, although that's all gone now.
I had found a promising looking walk on the internet that looked as if it would have some interesting features from a photographic standpoint. I decided not to do the whole walk as per the instructions but rather to work backwards to get to the features I was most interested in and then double back. Sounds easy right?
The walk had two optional starting points and one seemed easier than the other. I programmed the recommended parking area into the trusty Tom Tom and set off for the predicted 1 hour and 10 minute drive.
As I got closer I noticed that the directions I was getting looked different from the map I had looked at. I decided to follow the Tom Tom as it normally has more up to date information.
As I turned off of the main road I began to get suspicious. I was showing 4.5 kilometres from my destination but 22.5 minutes. That would mean a very slow drive. Sure enough, the route was on a very rough and unpaved road and I really didn't feel like ripping the bottom out of the car. So I turned back and tried to find the route I had looked for on the map. The problem was that the road was no longer open so that meant I couldn't get to the recommended parking spot.
Now, as I said, the walk had two optional starting points and I then set out for the second one. I found it easily enough, got parked up and then started to try to follow the walking directions.
It soon became apparent that something was wrong. I couldn't find a critical turning point in the trail and without it I couldn't get to the features I was interested in. After some time exploring, while the time ticked past, I finally decided to give it up and settle for taking some pictures off of the trail I was on. Fortunately this was quite a pretty spot with some nice trees and the Aitana mountain peaks in the background. I also had some nice late afternoon light and some quite nice cloud so I was able to get one pretty nice image from it:
After that it was time to head for home and try to work out where I had gone wrong. Much investigation and scanning of Google Maps and Earth view later and I now think I have the answer so I will be heading back up there next week. I'll let you know how I get on.
My second trip was back to Amadorio reservoir. You may wonder why I keep going back there, well the answer is simple. It's a great place to go for both walking and photography. It's only about a 20 minute drive away, it's easy to park and there are an abundance of walking options ranging from paved roads to rough and rocky tracks. Photographically, because of the extra water in there after the winter rains, it is still changing. Add to that some different weather and cloud conditions and it offers a lot of possibilities. Plus, I believe that a good location is worth working and I intend to keep working this one for as long as I can.
So, what did I do there this time?
To start with I headed out onto one of the areas right near the waters edge. Only a few months ago this was nearly the top of a hill but now it's just barely above the water line. The conditions were pretty calm and the mountains on the far side were reflecting quite well. There was a piece of a broken tree upturned in the shallows, one of many that have been victims of the increased water level, and I decided to use this for some foreground interest. I played around with a long exposure using the 10 stop filter but, in the end, decided I preferred the image looking more natural with the texture of the small ripples in the water: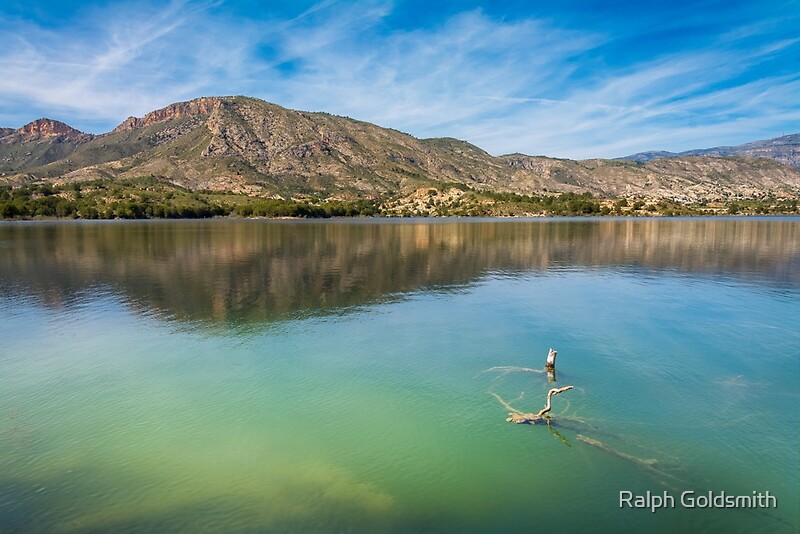 I then spent a bit of time walking around the far side of the reservoir and exploring some of the narrow and, in some cases, hidden trails. One of these led me out onto the edge of a low cliff overlooking a valley that is now filled with water. I liked the way the distant cliffs, with their pale colouring, were reflecting in the water and decided to get a shot of the scene: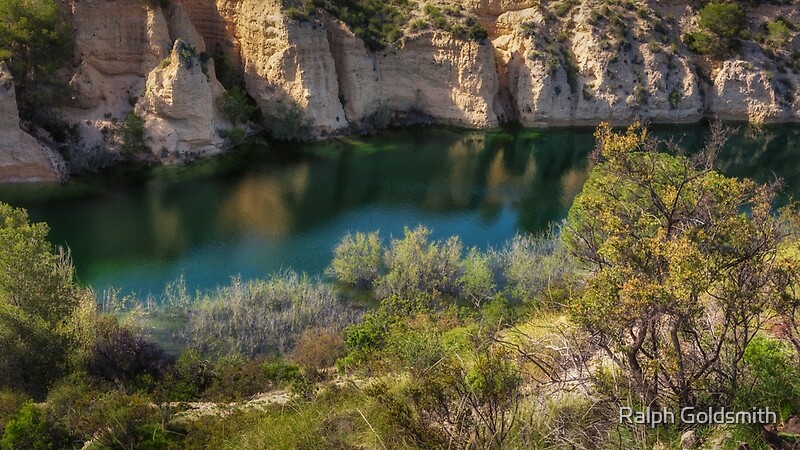 Exploring a bit further around the path (and getting a bit lost in the process, always fun) and I found a trail that led through between some trees and one of the old rock walls that support the terraces that are all over this landscape. I tried to get a shot of it but I was struggling. Fitting it all in with an 18mm lens wasn't possible but going wider angle made everything look too small and far away. I ended up shooting a 9 shot panorama (3 frames wide and 3 frames high) that, after cropping gave me a normal looking 3x2 format image that still had the type of perspective and angle of view that I wanted:
After that I turned back and started the return walk back to the car. Before I finished though I decided there was one more shot worth doing. This was a view from back near the waters edge, where I had started, but looking towards the big storage towers and the dam. By this time the light was looking quite nice, although it was still quite a way off of 'golden hour', and I decided to shoot a wide panoramic view of the scene. 14 shots stitched in Lightroom produced this image that I think has come out pretty well:

Storage tanks and dam at Amadorio - panorama_A panoramic view of the large storage tanks and the dam at Amadorio reservoir between Villajoyosa and Orxeta in Spain - 14 shot panorama
and that was it... Time to head for home.
Next week, all being well, I am planning a return trip to the Aitana mountains. Let's hope that I do better with my navigation this time. I'm also looking at a couple of potential sunrise shoots, depending on the weather of course.
Until next time, have a great week