Visitors from England and trips to Guadalest and Torrevieja
This week we've had some family from England staying with us. When we have visitors we always like to try to show them some of the beauty of the area and, with any luck, I get to take some pictures as well.
We did a trip up to Cabezon del Oro mountain for a picnic but that wasn't really much of a photo opportunity due to the time of the day and the bright sunshine.
We did however make a run up to Guadalest, which always seems to impress, and this was an opportunity to get some shots.
When we arrived there was some minor confusion as the car park we used to use is now only for residents and coaches. We soon found another one but I can imagine this one gets pretty packed in the summer and the next nearest is quite a walk away, worth bearing in mind for the future.
It's been over a year since we were last here and I was interested to see what the reservoir looked like now that it's full as, in the past, it's always had very low water levels.
There's certainly a lot of water in there now and I managed a quite nice panoramic shot that I think works quite well:
There was actually some quite nice light about as we weren't too late arriving and I managed, with a bit of patience, to get a shot of the path leading up to the old town without any people on it. The bell tower always looks impressive from this angle, perched on top of the cliff:
There was some really nice mottled cloud overhead and I thought it would look good from just inside the old town with the bell tower as the main feature. Lighting was tricky but I managed it with a single exposure: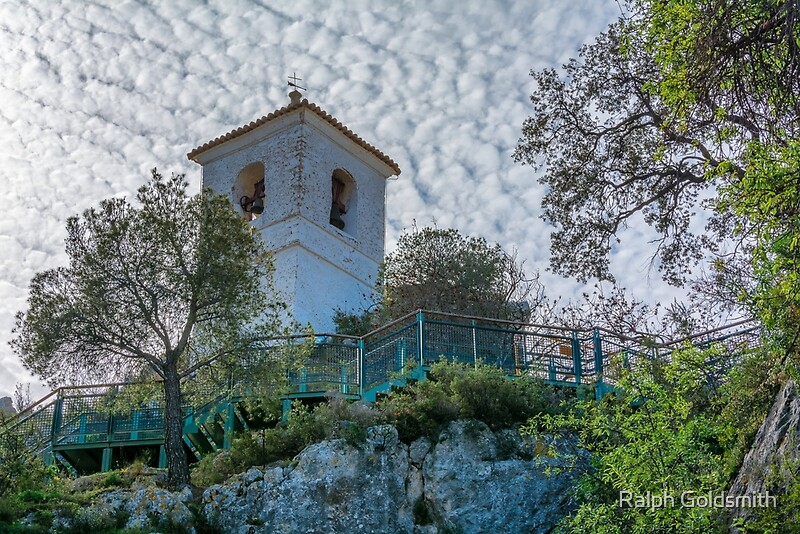 The same couldn't be said of trying to get a similar shot of the castle with the cloud behind it. I resorted to exposure merging for this one but it worked out OK I think:
We spent a bit of time up by the castle and the shops, had a cuppa at one of the bars and also went and looked at the old water tank and prison that is located under the town hall. I don't recall being able to get into it before but it was quite interesting to see and I managed to get a shot of the inside: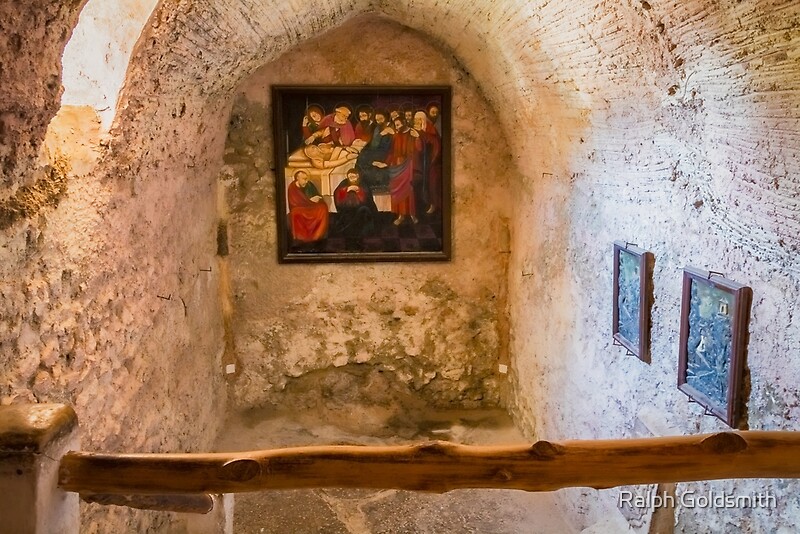 We also did a trip down to Torrevieja to visit someone who lives there. The only place we'd been to in Torrevieja is the salt lakes, and we considered making a stop there this time but the pink lake didn't look very pink as we drove past so we decided against it. Perhaps the rains over the winter have had an effect, or perhaps the water gets more of its pink colour as we move towards summer.
Anyway, we spent some time around the sea front and harbour in the town. There's quite an interesting statue there, the monument of the man of the sea:
During the rest of the week we did a trip to Alicante but I decided not to take the camera this time. We also did a bit of walking just around El Campello.
A return trip to the airport on Saturday morning was more complicated than expected as the normal route off the motorway to the airport was closed and we had to find an alternative. Of course, as I know the airport route well I left the navigation system at home, there's a lesson to be learned there, next time I'll take it just in case.
That's about it for this week. There will be some trips out this week at some point and some photos to share in next weeks post. Until then.... Have a great week