One Tree, One Dawn, Five Images Plus a Few
This week we've seen some nice weather, a real taste of the summer to come. Not sure if we might not still get some cooler weather over the next few weeks but we'll see.
Most of the shots from this week come from a single dawn shoot on the coastal path at Villajoyosa. This is a location I've visited before and I scouted it again only last week. I was really waiting for the weather to look promising and that meant a forecast of some clouds, but not too much. Of course, as I mentioned in last weeks post, sometimes (often) the weather forecast is wrong, even here.
Before going on to that shoot I did spend a bit of time walking around El Campello. Sometimes just a walk around the local area can bring up some interesting opportunities and one of these was literally 30 seconds from home.
Quite often there is a nice Harley Davidson Road King parked near to the beach, just across the road from us, but it's normally surrounded by other bikes and difficult to see clearly.
On one day this week it was sitting in splendid isolation so I decided to get a shot of it. A long focal length and a wide aperture enabled me to blur the background to make it stand out more: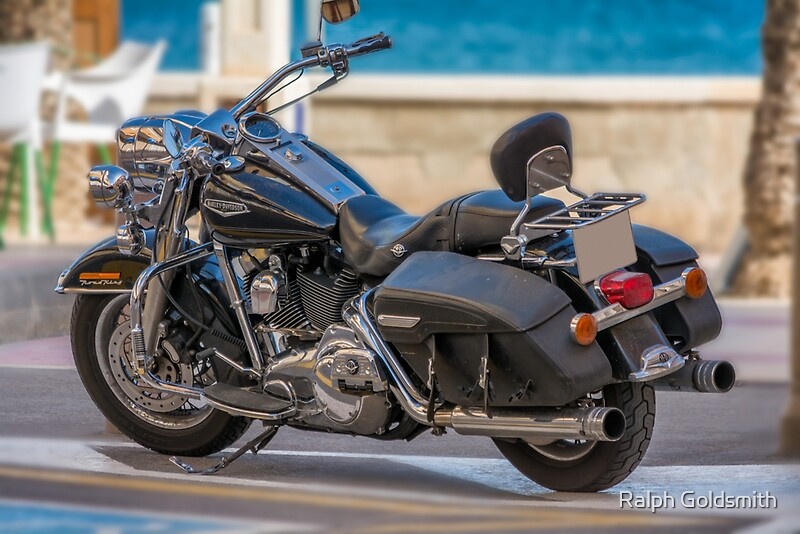 I also like to wander around the marina in El Campello. It's only small and is mixed between the fishing boats, that are on one side, with the remainder being more "pleasure craft". While I was there late one afternoon this week I was struck by the way the low sun was making the wood on a sailing yacht almost glow with rich colour. I couldn't resist a shot: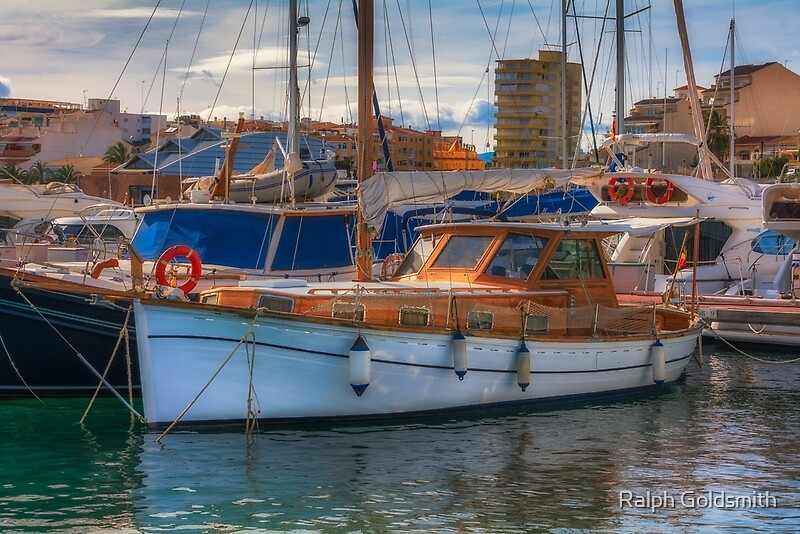 Some nice clouds in the sky and low sun was creating some nice light on the marina and, in particular, on the water: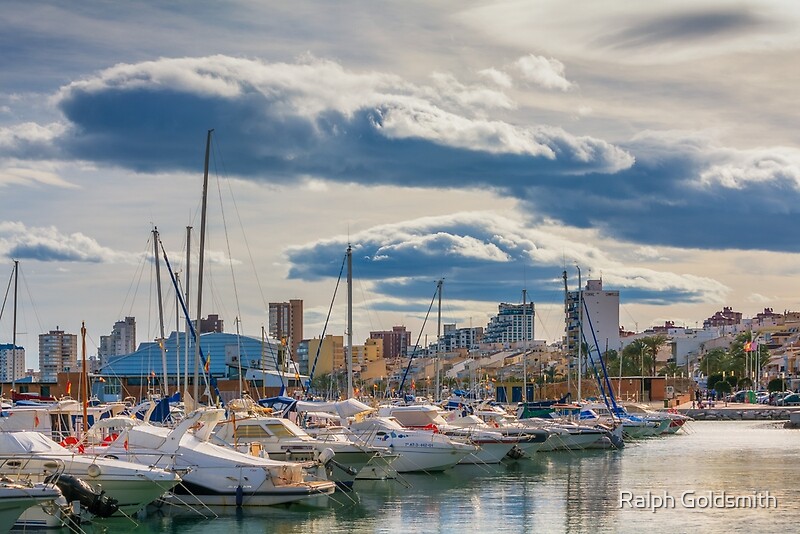 Sadly, as the sun went down, it hit some heaver cloud and the sunset lost all of it's colour and beauty so I was glad I captured this image when I did.
As I kept an eye on the weather forecast I finally saw something that looked promising for a dawn shoot back up on the coastal path at Villajoyosa. An early alarm and I set off in the car about one and a half hours before sunrise. A 25 minute drive and another 25 minutes hiking would get me to my location about 40 minutes before sunrise.
As I was driving I began to doubt the weather forecast. It's difficult to tell the cloud cover when it's dark and you're in a car but, as far as I could tell, there was none. I had been hoping the forecast of 40 to 50% cover would be accurate. Still, I was up and out so I might as well see what happened.
As I arrived at my chosen location it seemed my concerns were justified. The only cloud in the sky was a thin band along the horizon near to where the sun would be rising. This cloud was already starting to pick up some rich colours so I decided to get a shot with the silhouettes of a tree and Benidorm island against the colourful clouds: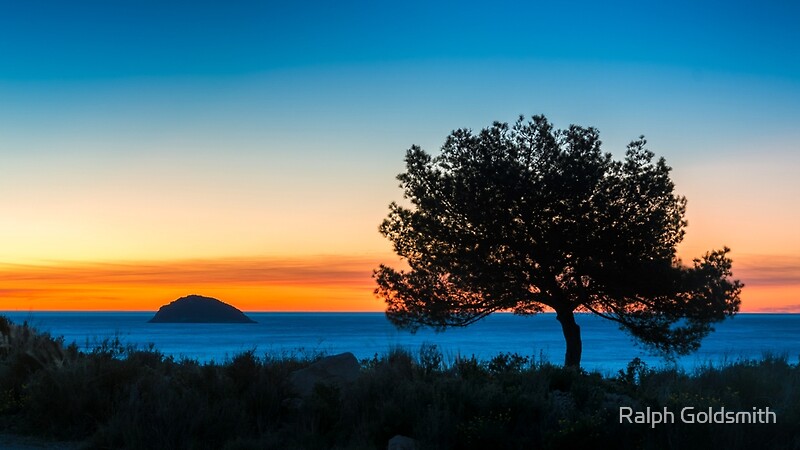 With at least one shot 'in the bag' I started to consider my options with a clear sky. I was tempted to set up to shoot the sunrise under the branches of the tree to avoid having lots of boring blue sky but, as I was looking around, a single cloud drifted over the tops of the cliffs. Not only was it a cloud but it was quite an interesting one. Another quite dark shot, largely keeping the tree and landscape as silhouettes but showing the colour near the horizon and the interesting cloud with just a hint of light starting to fall on some of the foreground: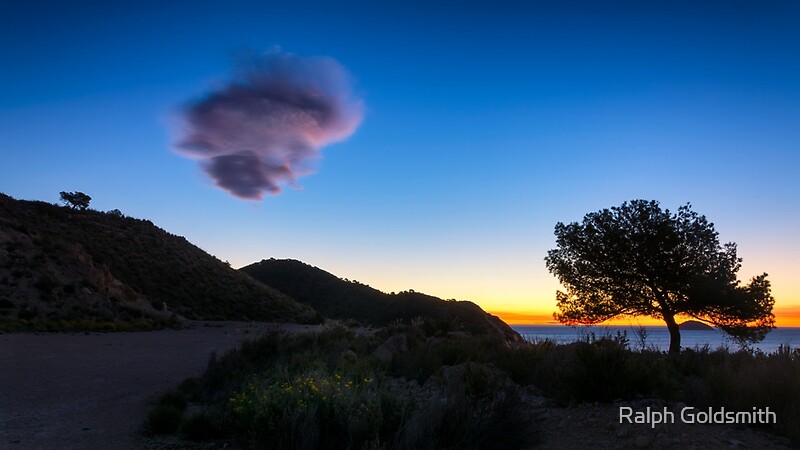 As I looked inland I could see more cloud starting to drift over. It was quite windy and the cloud was moving quite fast. This was looking more promising.
A larger bank of cloud started to drift in overhead and, at it's leading edge, there was some fine streaks of cloud that started to pick up some lovely colours. I really needed to get some more of the scene in so I quickly changed to my widest lens and captured this shot: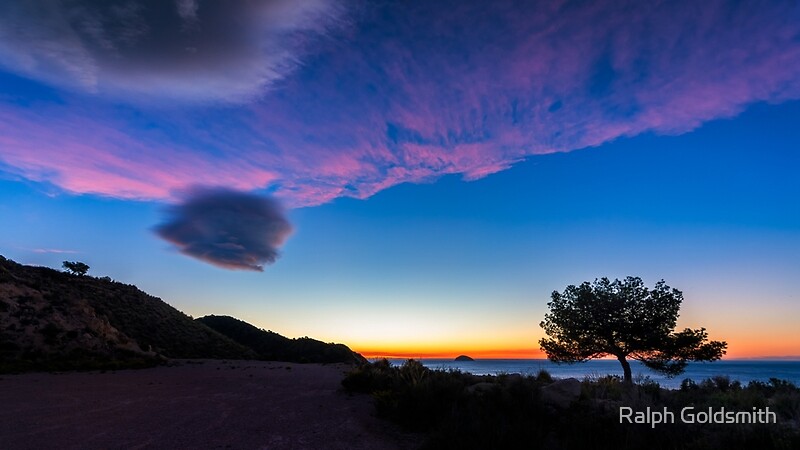 The larger bank of cloud was rapidly overtaking the small isolated cloud that had first appeared. If it joined up with it we could have an interesting formation. I decided to work on the basis that it would happen and set up a composition on the edge of the cliff, looking towards where the sun would rise and using the tree again as a point of interest in the frame.
The cloud started to join up and get some really nice shapes and textures, it was then a case of waiting until the sun cleared the little bit of cloud on the horizon and got high enough to start putting some nice light on the rest of the scene. A few minutes after official sunrise it finally happened: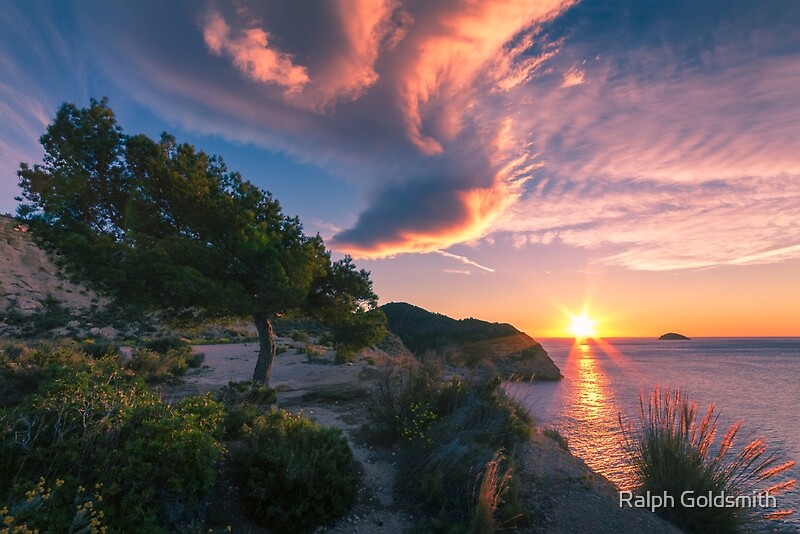 As the sun continued to climb I abandoned shooting towards it and instead looked almost 180 degrees around to see what the light was doing on the rest of the coastline.
The clouds now extended in a lovely line, almost matching the shape of the coast, and they were picking up some nice light. I re-positioned to the other side of the tree and used it as a point of interest again for my final shot of the morning: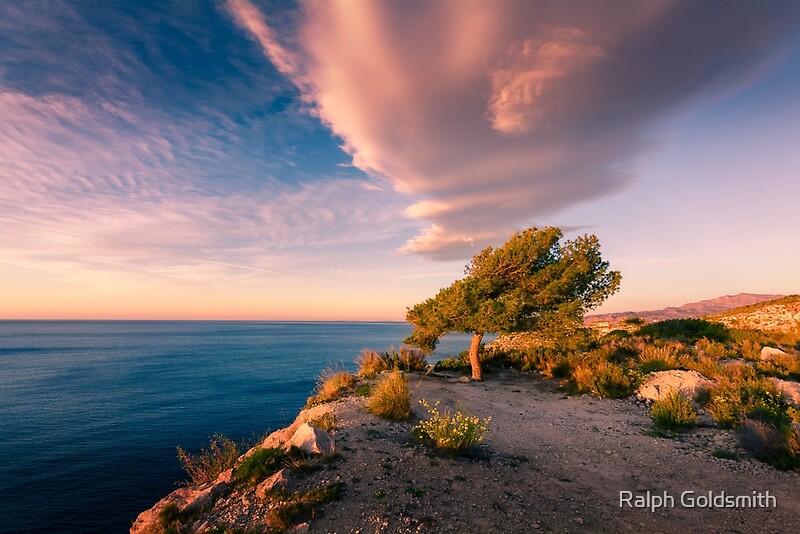 and then it was time to head for home and some well earned coffee and toast. It had been an excellent morning and I knew I had some good images to show for it. Sometimes it all comes together and you go home with 3, 4 or, as in this case, 5 images from a single shoot. Other times it doesn't work at all and you go home empty handed. That's all part of the fun and the challenge.
I hope you've enjoyed this post. Until the next one, have a great week