Amadorio, Polop and the full moon
What a week for changeable weather! We've had some gorgeous sunshine and warmth, and also some torrential rain and thunderstorms. Still, summers approaching and we'll soon be basking in the heat and over using the air conditioning.
Let's start the week almost immediately after I published last weeks blog post. I normally aim to publish on Friday, occasionally it's Saturday and very occasionally it's Sunday. Last week I was doing well and published on Friday morning.
On Friday afternoon I headed out to get some exercise, do some exploring and, of course, see if I could get any decent photos.
I headed up to Amadorio with the intention of exploring some more side trails and seeing what views I could find. It was later in the afternoon and I hoped that I would get some nice light as the afternoon wore on. It was a clear blue sky so I doubted it would be worth hanging around for sunset.
That clear blue sky was accompanied by some really warm weather. In fact, for the first time this year, I headed out wearing shorts, and very glad I was that I did because it was really warm.
My first stop off was an old ruined building that sits on the top of a hill almost overlooking the reservoir. I decided to have a little bit of an explore and, having established that there was no interior as such to photograph, I looked for outside possibilities. There were lots of the yellow 'Bermuda Buttercup' flowers around and the area was quite green with moss and grass. I felt that these elements, with the texture of the old building, a stone wall and the blue sky made for a nice image. The sun was getting a bit lower and, after walking around for a few minutes I decided on my composition that was planned to make the most of the brightness of the overall scene:
I then moved on to explore some other paths that led through trees and out onto some interesting looking areas that were once terraces used for growing trees (probably almond or maybe oranges and lemons). These areas are now abandoned but they provided some interesting views out over some of the more hidden parts of Amadorio that are now flooded due to the high water level. There were also plenty of the yellow flowers again. A scout around and I found a shot that I thought looked like it would work. Interestingly this is not a shot that would work either early in the morning or late in the afternoon as the scene would not get any light to make it pop. One of those times when shooting out of the golden hours is the right thing to do:
I didn't find anything else on this trip but I had a couple of images in the camera that I thought would be reasonable.
The warm weather stayed all through Saturday and most of Sunday. On Sunday afternoon it started to feel a little bit cooler, not exactly cold but not as warm.
Around seven thirty in the evening I looked outside and saw a beautiful orange full moon rising over the sea.
Panic ensued. I rushed around grabbing my camera, fitting a lens and fitting the whole lot onto the tripod. Then it was a race down to the beach before the moon got too high and the colour faded.
I really only had time for one or two shots, and no plan on composition. I first thought that a long focal length, to make the moon big, and capture it in the dark and clear sky with the light reflecting in the sea, would be the way to go but... It looked boring.
I moved back and zoomed out a bit. Using the lifeguard tower as a point of interest. The moon was really bright. I could see there were some stars in the sky but, even with the lights from the passeo (promenade) behind me the beach and tower were very dark.
I ended up taking three massively different exposures.
I needed thirty seconds to get some detail on the beach and the tower. This blew out the moon completely and left the sky looking a bit too blue and meant that the stars were stretched out in short lines. A second shot of ten seconds got me a nice dark sky and meant that the stars stayed pretty much round. The moon was still blown out though. A third shot of just 1/10 second exposed the moon correctly and I merged all three shots in Photoshop to create a single image:
It's amazing to look at this now, with the crystal clear sky evidenced by the stars being visible, and to know that, less than three hours later it was raining. Not just a shower. This was torrential rain with thunder and lightening that lasted for more than twenty four hours.
Finally, we did a trip out this week to check out a village called Polop.
Polop is an old village to the North of us and inland, about a fifty minute drive. It has some nice winding narrow streets and old buildings that make for some quite pretty scenes: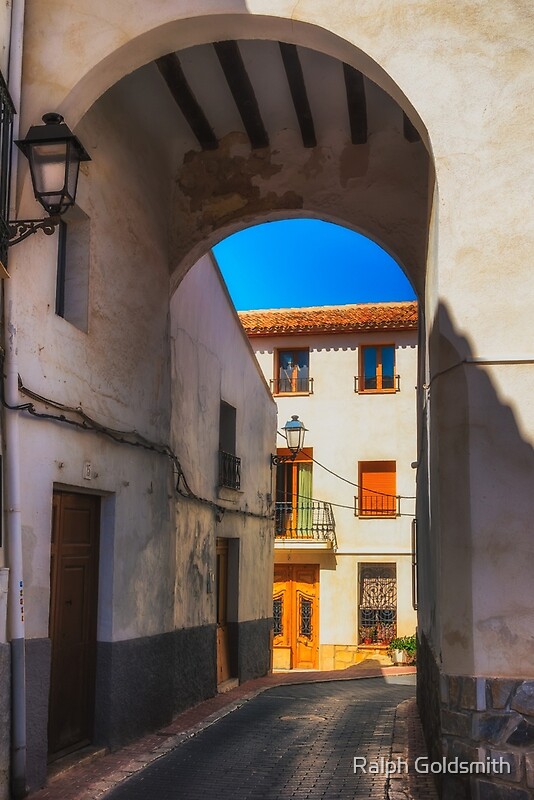 It also has an old castle. To be fair there isn't much castle to be seen. The hill on which it sits seems to be mostly an old cemetery, but it does offer some great views out over the village and to the nearby mountains.
I wanted to get a shot of this that really took in the scale of the scene. I could have shot with a wide angle lens but this would have increased perspective and made the mountains look smaller and further away.
I decided I wanted to get an image that was closer to what my eyes were seeing and that meant a longer focal length and taking multiple shots to fit it all in that I would stitch together later. The end result looks pretty good: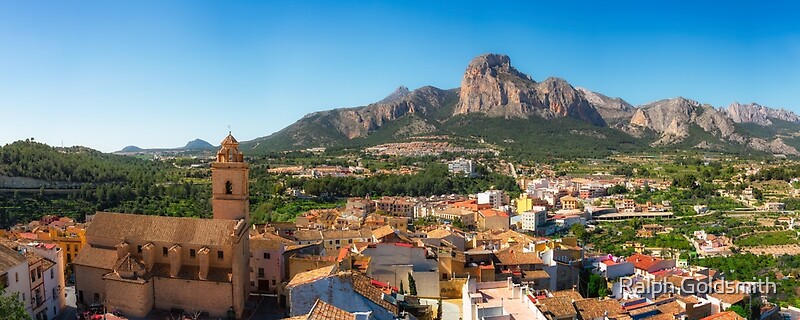 After a bit of time exploring Polop we headed over to the nearby village of La Nucia. Not because there anything much in the village we wanted to look at but because it sat on a nearby hill that might give an interesting view over to Polop.
Again I wanted to capture the scene close to what my eyes were sing and that precluded a wide angle lens. Nothing for it but to shoot another panorama, and here it is:
Polop is a place I think I will be visiting again, maybe in a couple of weeks for an early morning shoot when conditions look promising. It may also be a location for an evening shoot later in the year.
Next week we have visitors so I'm not sure what we will be doing photographically, also the post is probably going to be a bit later, maybe Sunday
Until then... Have a great week!