Further exploration of Amadorio
This weeks photography has been centred around Amadorio reservoir which is near to Orxeta and lies just a short way inland and about 25 minutes drive from home. For those that view my portfolio or blog on a regular basis you will know that this is a favourite location for me for both walking and photography. I revisited it this week with some new purpose because, following the massive amount of rain and even snow over the winter, the landscape has changed considerably which has created all sorts of new possibilities.
I actually ended up doing two trips here this week. Both were afternoon trips that were intended to get me to some nice locations as the sun was starting to get lower in the sky.
While I was still on the western side of the reservoir I came across a view that really showed just how full it is right now: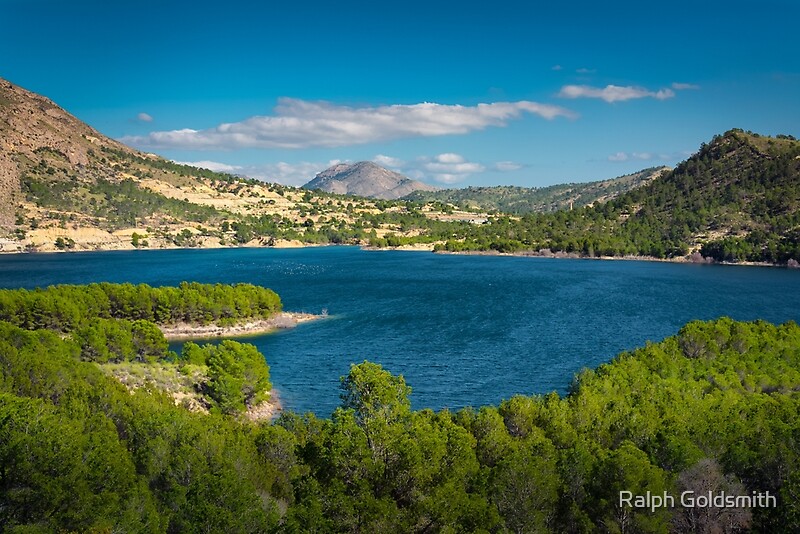 When my route reached the main road at the northern end of the reservoir I turned south along a rough trail that took me to areas that had, in all my previous trips, been dry and boring. At the moment though there is quite a lot of water in the area and I stopped to get a shot of a scene that will, I'm sure, be gone in the next couple of months when the summer weather starts to dry things out again: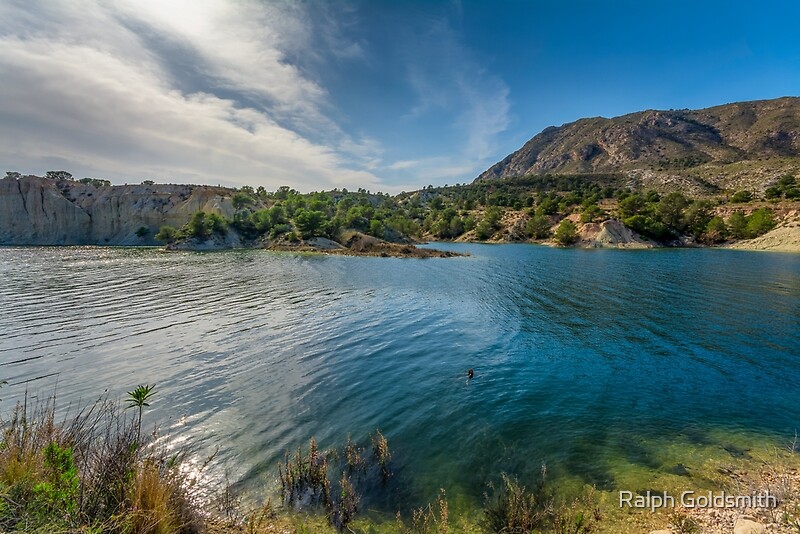 After exploring here for a bit I headed back up to the road and my second detour, which was a narrow track leading off into some trees to the north of the reservoir. I was pleasantly surprised when I found myself in a very pretty area of lemon and orange groves:
After spending some time exploring in this, very pleasant, area I headed back to the road to continue my clockwise path leading back towards the area where I had parked the car. before I started the walk I decided to try and get a shot looking north along the river valley in the general direction of the Aitana mountains. I have taken some pictures from here before but the river valley was completely dry on those occasions whereas, at the moment, it is well flooded.
After a bit of exploration I found a good vantage point. Ideally I would have liked to get down near to the water but there is simply no way to do that at the moment.
The river is not flowing as much as it was a few weeks ago but it is still moving quite a bit and I decided a smoothed out look would be nicer. I used a 10 stop ND filter (Lee Big Stopper) to get a 30 second exposure that produced the effect I was looking for:
I then needed to get moving and start the walk back to the car as the light was fading and I was on a bit of a time limit with some plans later. It was still about 45 minutes walking back to the car and, partway back, I heard the sound of rushing water. I spent a few minutes figuring out roughly where it was coming from but decided to leave it until the next trip.
A couple of days later and I was back again. I parked in the same spot but this time I decided to make the walk around in an anti-clockwise direction with a couple of detours.
The first detour was to try to find the source of the rushing water sound I had heard on the previous trip. After a bit of exploration I found where the sound was coming from. Water was flowing through from an underground part of the river into a pool, creating a kind of water fall. I spent a bit of time working out how to get down to it and, after a bit of a scramble down a bank, set up to take some shots.
I decided a cropped in view would be best and used a 6 stop ND filter (Lee Little Stopper) to get an exposure time of 1/3 second. Long enough to blur the water but still fast enough to leave in some texture:
After spending a bit of time here I carried on with the walk. I headed up the road and across the bridge, starting down the narrow road on the far side before diverting off down a narrow trail that ran by the side of the water. It was quite overgrown and a bit of struggle to get through in places but I pushed on, trying to see if there was a good shot to be had. At one point there was an almighty crashing and splashing and an egret that had obviously been hiding somewhere near the banks suddenly took flight. I don't know who was more startled, the bird or me.
Eventually I found a nice area with some interest in the foreground and some nice reflections of the valley wall and trees in the water and some reasonably blue sky. I went for the 10 stop ND filter again to get a long exposure of 40 seconds which flattened the, already quite still, water even more and made the reflections more prominent: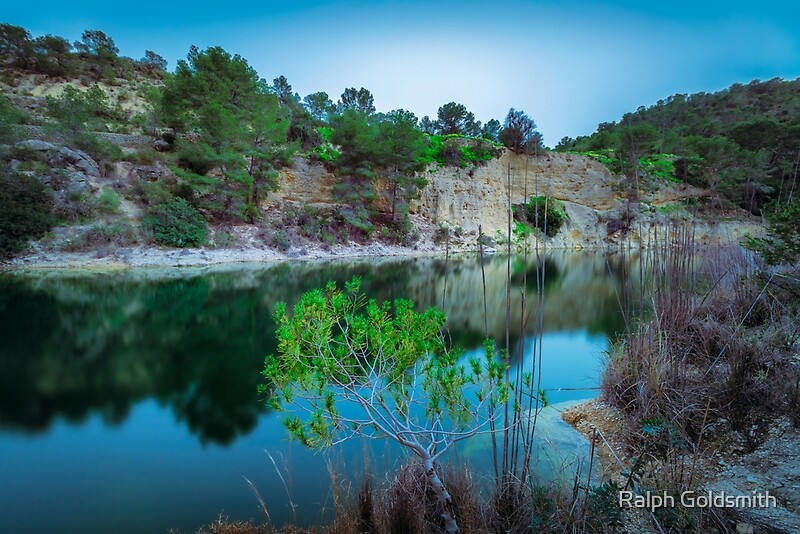 And that was it. The light was not too great in most directions, there was a lot of haze in the sky, probably from the sahara sand that we have experienced here, and I decided to head back to the car and home.
That's it for this week. We may plan for a day trip somewhere next week and, if the weather looks promising, I may aim for an early morning shoot somewhere on the coast, all of which will form part of next weeks post. Until then... Have a great week.