An Andalucian Adventure Part 1
Something a bit different for this weeks post (and for next weeks as well as this is going to be a two parter)
We spent most of this week in Andalucia, specifically in the area in and around Córdoba.
We were staying in a small village about 60 kilometres (37 miles) north west of Córdoba itself so our trip started with a 6 hour drive from El Campello.
It's funny. A 600 kilometre (370 plus miles) trip in the UK would have been quite a stressful time. There would, undoubtedly, have been numerous traffic problems and delays to deal with and it would probably not have been a pleasant time.
For us it was quite a pleasure. No traffic issues for the whole trip, great roads, often with very few cars on, and some lovely scenery to look at, especially when we were passing the Sierra Nevada mountains that have a nice blanket of snow on them.
This wasn't solely a photography / sightseeing trip. We had family reasons for making the journey, but I wasn't going to come all this way and not make the most of it.
The climate and landscape in this part of Spain is somewhat different than the Alicante area where we live. In the summer it is much hotter. In fact Córdoba is supposed to record the highest temperatures in Europe in the middle of summer. In the winter it's a bit colder than the Alicante region and, because we were in a small village in the mountains it was a bit colder still. The landscape here is much greener and so there must be more rain and less arid conditions, although it stayed dry for us while we were there.
The photography started on the first night when, after dinner, our host took us out to see "something special".
This turned out to be a nearby village (called Belmez) with a floodlit castle perched high on a rock.
It was a bit difficult to set up for a shot here as I hadn't seen the location in daylight and had to try to compose a shot in the dark without much of an idea of what was around. Also, it was getting pretty late and the rest of the group were getting tired so I didn't want to spend too long. Still, it was a clear night with some nice stars in the sky and the the castle looked very pretty all lit up.
With the benefit of hindsight I should have shot this one a bit differently. The exposure should have been quite a bit shorter (and the ISO higher) to avoid the elongation of the stars, but even so I'm quite pleased with the way this has come out. It's not one of the greatest night sky shots ever taken but I think it looks pretty enough to include: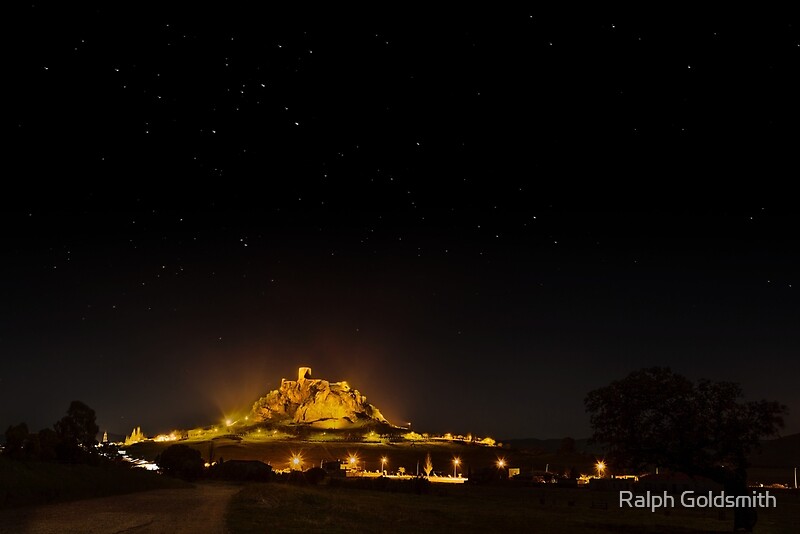 The next day we were planning on heading into Córdoba itself. There were some scenes there that I knew I wanted to get, especially around sunset and the blue hour at the Roman Bridge, and I was looking forward to exploring the old town and seeing some of the sights.
Before breakfast, and around sunrise, I looked outside and saw a wonderful sky. I couldn't let it pass so I dashed out with my camera and tripod and started searching for a suitable composition.
This was another unplanned shot but sometimes you just have to go for it. I found a lane which was lined with trees and bushes on one side and had a view that included a river valley in the distance that had some mist over it. A quick set up and I got this shot:
After breakfast we headed into Córdoba. We parked up in the newer part of the city (you can't park in the old city unless you are a resident and have a permit) and crossed the Roman Bridge on foot to get to the old area. I took this opportunity to do a first scout of the bridge area for later and then we moved through the huge stone gate that marks the entrance to old Córdoba, pausing briefly to look back through the gate and get this shot of it with the sun just peaking over the top:
Córdoba is a beautiful old city with some wonderful, typically Spanish, narrow streets and some lovely buildings. We could have chosen to take a tour in a horse and buggy (no idea what it would have cost) but we preferred to make our own way around so I settled for getting this image of one of them while it was waiting for some customers:
While on the horsey topic we then paid a short visit to the Royal Stables. There was nothing much going on there but it was a lovely piece of interior architecture so I decided to get a shot of it:
All around the city there are special 'patios'. These are open to the public and you can just wander in to have a look. They have small shops inside that sell a variety of things and I assume this is how they make the money to support the mass of flowers and plants that line every available surface. They are certainly beautiful to visit and I couldn't resist getting at least one image. The white walls created some challenges with contrast and I ended up shooting three exposures to merge in Lightroom later: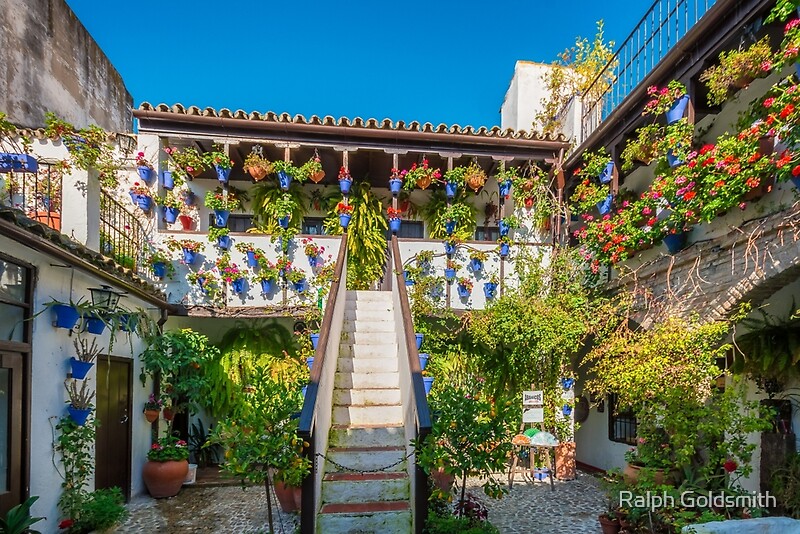 Some of the streets are extremely narrow and one of them, with white painted walls and flowers in bright blue pots, provided an interesting view of the bell tower on the huge Mosque and Cathedral (Mezquita-Catedral de Córdoba):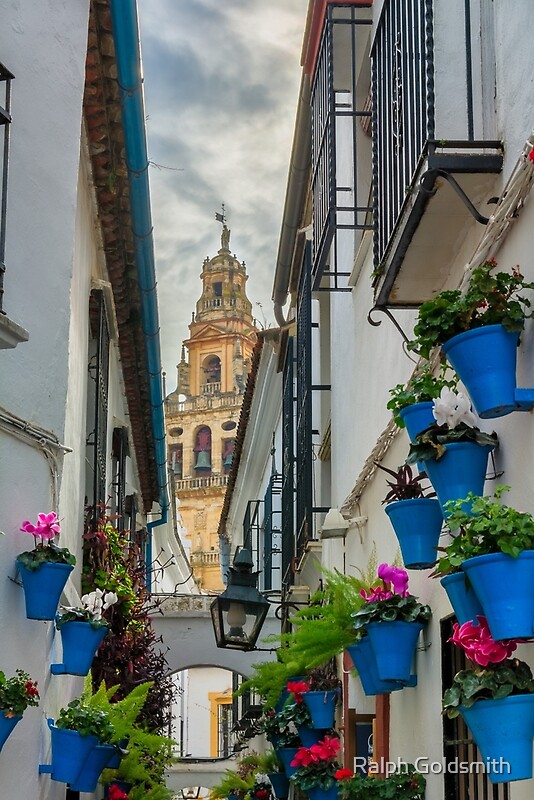 Making our way towards the tower and a clear shot shows some of the detail on this wonderful structure: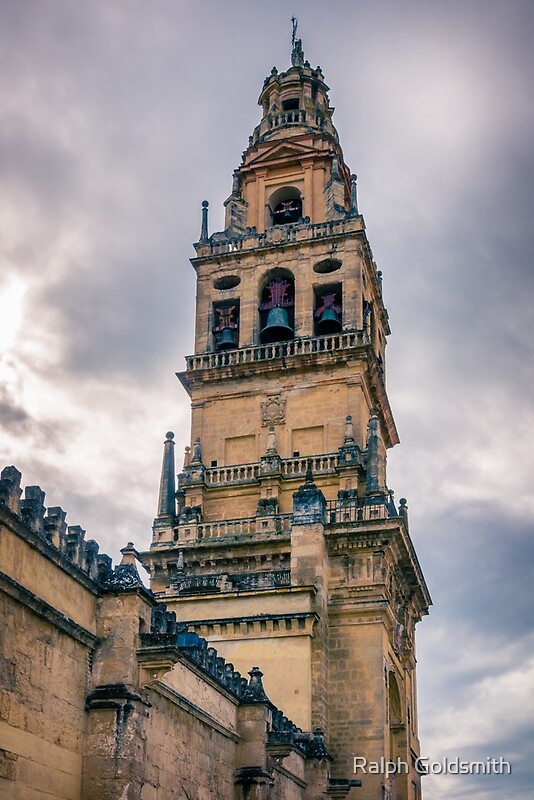 A bit of lunch followed and then it was time to pay a visit to the Mezquita-Catedral de Córdoba.
This is a fascinating place. Also known as The Great Mosque of Córdoba, it is a huge structure with an interesting history. The site was originally a Christian church. After the Moors conquered the area in the early 8th Century it was divided into Muslim and Christian halves and remained so until later that century when it was demolished and the Grand Mosque was built.
When Córdoba returned to Christian rule in the 13th Century the building was converted to a Roman Catholic church, culminating in the insertion of a cathedral nave in the 16th century.
In all honesty you could spend a whole day inside this building (so it's well worth the €10 entry fee). It's a massive space with some incredible ornamentation and architecture, and some of it is outrageously ostentatious.
The main features are the pillars and arches that support the entire structure. Interior shots were quite a challenge as the light is quite dim and, I believe, that tripods are frowned upon within the structure. So I pushed the ISO up and hoped for the best: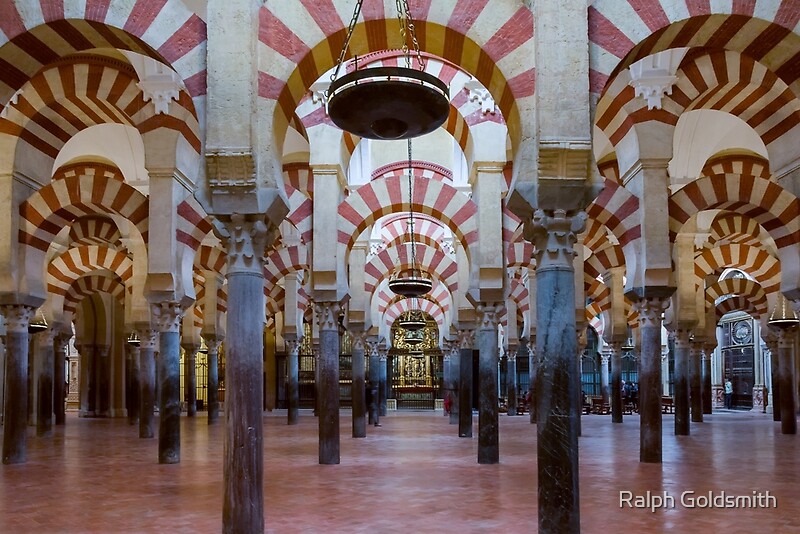 There are so many beautiful features here and I'm going to let the images speak for themselves:
Back outside and the afternoon was pushing on. I knew I wanted to get back to the opposite side of the Roman Bridge well before sunset so that I could find the best locations for the shots I had in mind but, before that, there were still some things to see.
There are lots of squares and plazas in the city and in one of them this proud statue stands atop a fountain: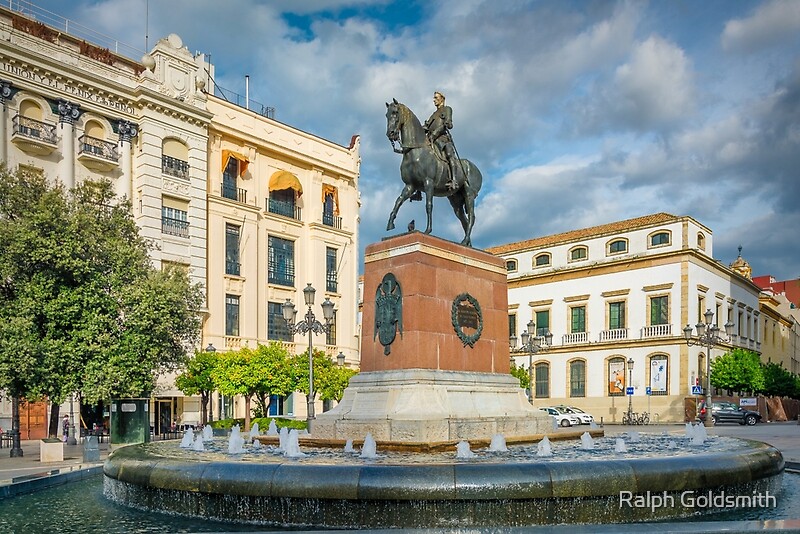 Córdoba also has a strong Roman history and one of the features that dates back to this time is the remains of the Roman Temple that date back to the first century. The main feature here is the columns that were excavated in the 1950s: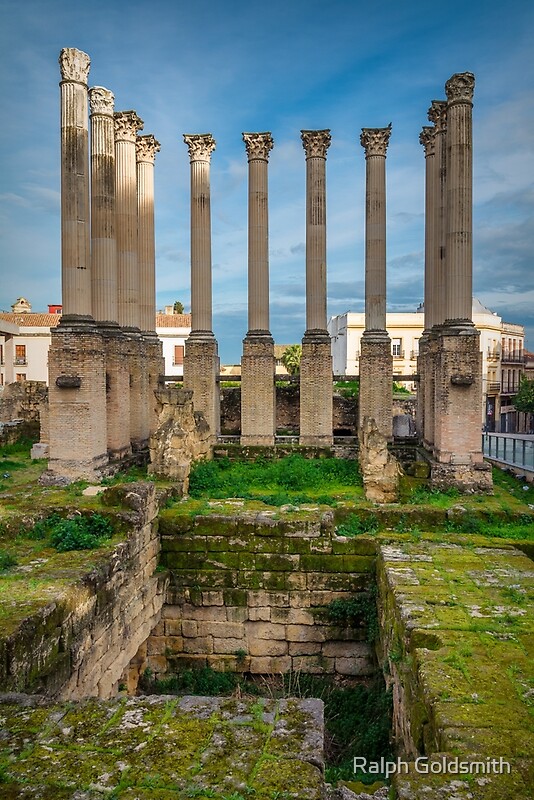 Roman columns - CordobaPart of an ancient Roman temple excavated in Cordoba, Andalucia, Spain There was also a huge plaza that we stopped at briefly. Wonderful buildings surround it and there are lots of bars an restaurants with tables out in the square. As it was winter, and late afternoon, it was pretty quiet and I was able to get a shot without many people in (it would also have worked if it had been very busy but it would have been harder to get an unobstructed view into the scene):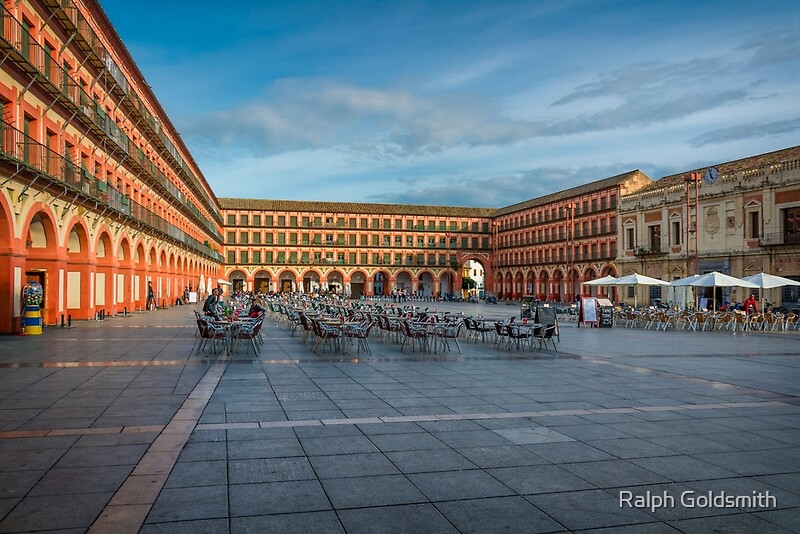 And then it was time to make my way across the Roman Bridge to prepare for the sunset and night shots.
How did that go? Well, you're going to have to wait for part two to find out, and also to see what happened for the rest of the trip which includes a great sunrise, some lovely countryside and a return to the castle at Belmez.
As a taster, here's one of the night shots at the Roman Bridge: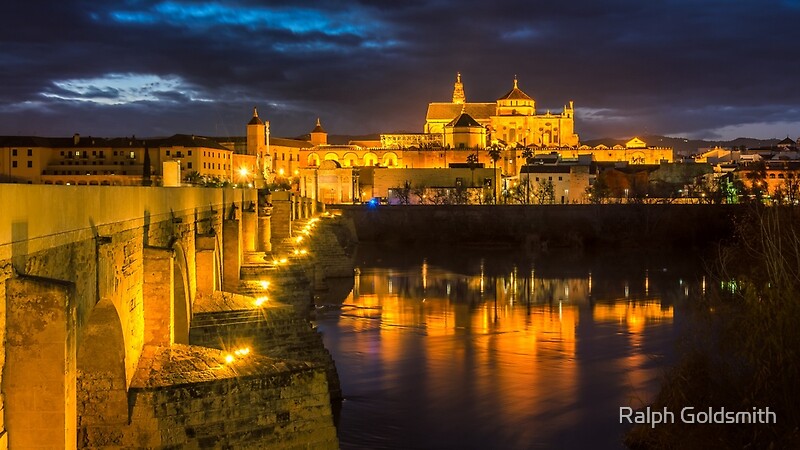 Until part 2... Have a great week