Last photos of 2016, Christmas, Novelda and Zofra corner
It's new years eve and there's only a few hours of 2016 left. It's been a great year, the first full 'calendar' year in Spain and full of opportunities to add beautiful images to my portfolio.
Last weekend we celebrated Christmas. The celebration on Christmas day was at our place and Tracy went to town on the table setting (not to mention the food):
It was a lovely day and we enjoyed it, we also enjoyed Boxing day which gave us a chance to just chill out and relax after the festivities.
Of course, in Spain, the really big Celebration is the Three Kings and that's next week. I'll hopefully be getting some shots of the parade on the night of the 5th to share in next weeks post.
I've managed a couple of photo shoots this week.
The first was a combined exploration trip and shoot at Novelda.
This small town is inland from us and a bit further south. I've previously posted images of the wonderful church at the Monastery of Santa María Magdalena
I had a shot in mind for late afternoon / early evening that would make use of the high vantage point afforded by the tower at the ruined Castillo de la Mola but I wanted to spend some time scouting the nearby area first to see if there were other opportunities.
I climbed a nearby hill to start with, this did give some nice views of the church and the castle but also highlighted just how industrial the landscape was. There were lots of large buildings, probably big warehouses, and they really didn't make for an attractive shot.
So I then headed down hill into the Vinalopó valley where I managed to get to a small path alongside the Vinalopó river. A short way along, and pretty much level with the base of the hill on which the church and the castle stand, I came to a tall and narrow bridge that had a powerful rushing weir under it. This was too good to pass up and I set up my small hiking tripod near to the weir, added my 10 stop ND filter and proceeded to take several long exposure shots. These ranged from 1 second to 15 seconds. Because the water coming over the weir was quite turbulent I decided to use the longest (15 second) exposure for the final image:
I was keeping a close eye on the sun. I knew that the shot I wanted from the top of the castle would need to be well before sunset as the sun would disappear behind the nearby hills and I would lose the light on the scene if I left it too late. So I started the climb back up to the church and it was then that I realised how far down I had come and how steep the climb back up was.
I arrived back at the castle entrance (only a bit out of breath) and proceeded to climb the dark and narrow staircase to the top of the tower. As a side note, the tower itself is pretty unique as it is only three sided. Most castle towers are four sided (i.e. square when viewed from above). This tower is three sided and so is a triangular shape when viewed from above.
I set up on the top edge of the tower and tried a couple of shots as the light started to be where I wanted it. It was looking quite good but the sky wasn't doing justice to the scene. I wondered if a long exposure would help by getting some movement in the clouds. It wasn't very windy but even a bit of movement might help.
So I fitted my 10 stop filter once again and managed this shot which was a 92 second exposure. It certainly made the sky look a lot more interesting:
My second trip was a lot closer to home, in fact just a 25 minute walk away at a little spot called Racó de la Zofra or Zofra corner.
I went down there on Thursday afternoon to check the location out. I wanted to make sure that nothing had changed since the last time I was here, in particular that the storms a couple of weeks ago hadn't had a major impact.
The weather forecast for Friday morning was looking promising so I headed out early and got on location about 50 minutes before sunrise.
There was a lot more cloud about than forecast and, while it was still pretty dark, very much the Blue Hour, I decided I liked the look of the clouds over the buildings and lights to the south at Muchavista and San Joan.
The main feature at Zofra corner is the numerous small boats that are upturned on the rocky beach. They never seem to move, and I'm not sure if any of them would actually float anymore, but they made for some foreground interest. Because it was still quite dark I needed a 30 second exposure which created a nice smoothing effect on the sea: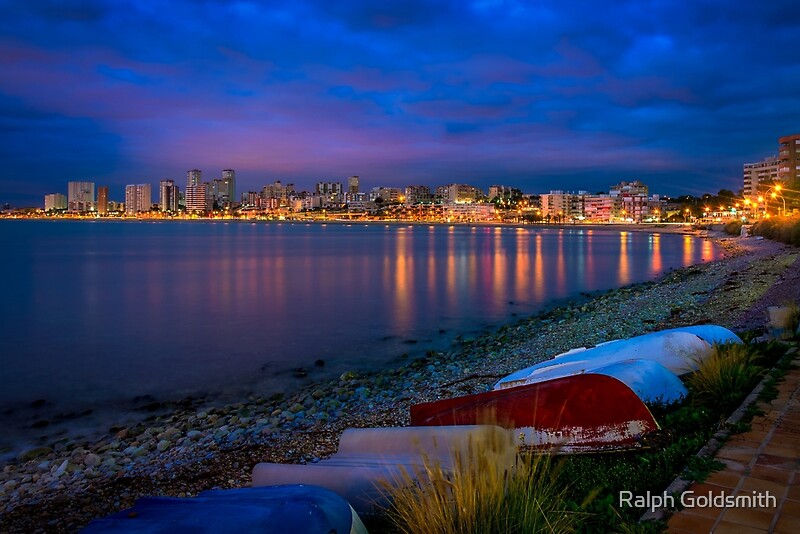 Dawn at Racó de la ZofraRacó de la Zofra (or Zofra corner) in El Campello, Spain just after sunrise looking roughly to the East and out to sea. Racó de la Zofra is best known for the small boats that seem to be permanently upturned on the rocky beach. I then waited around to see what sunrise would bring.
It wasn't long before I knew that the sun itself was not going to put in an appearance. The amount of cloud sitting around the horizon was sure to block it. Higher in the sky the cloud was more patchy and I hoped that, as the sun rose, it would bounce some light up into those clouds and create some nice colours and patterns.
The sea was quite calm and a bit boring so I decided to fit a 6 stop ND filter to get a long exposure of 46 seconds which flattened the sea completely. I combined this with a three stop ND hard graduated filter to block some of the light coming from the sky, which was a lot brighter than the foreground. It was about twenty minutes after official sunrise that the light was at its best and I managed to get one shot that worked really well:
Then it was time to head for home and some coffee and breakfast.
In this post I've talked about using 6 stop and 10 stop ND filters to slow down exposures. These filters can result in a slight colour cast to the images that needs to be corrected in post processing. You can read my tip for easily correcting ND filter colour casts HERE
That's it for this week and for this year.
Thank you for reading, I hope you've enjoyed my posts in 2016 and will continue to do so in 2017. It only remains for me to wish you
A Very Happy New Year